AdWords Extensions
Extensions are powerful add-ons to regular Google Adwords ads. They will improve your visibility by taking more real estate space and providing additional information. They result in a boost of CTR (Click Through Rate) when used properly.
Two of the latest extensions in AdWords are often confused for one another: The review extension and the star rating (or seller rating)  extension. Because I get a lot of questions from confused peers or customers about those extensions, I decided to put it in a blog post once and for all.
Same same…but different!
The confusion comes from the names of the extensions. In websites like yelp, you add a review by rating a restaurant for example. In Adwords, a review and a rating are different.
The Review extension allows the sharing of great reviews as a form of text under the regular ads:

The Seller Rating will pull star rating from a feed:

How to implement the Review extension
The review extension is pretty straight forward. You can implement it like a regular extension from the Google Adwords platform.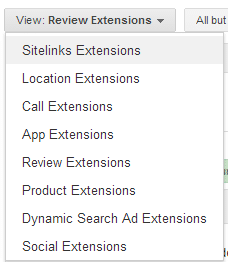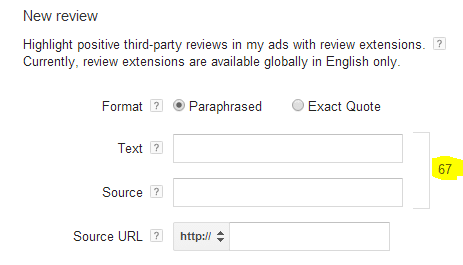 But before adding a review to Google Adwords, keep those tips in mind:
Create only one per campaign: Only the first Review Extension you create will run (assuming it is approved). So even though you have the option to set several, it makes the most sense to only set one.
Some extensions are reviewed quicker than others: Campaign level extensions are reviewed quicker than ad group level extensions.
Focus on your business as a whole:  The review you select should focus on your business as a whole as opposed to a specific product or service.
Keep it new: The review cannot be more than 12 months old.
Keep it short: Only 67 characters are allowed (for both lines combined), so it has to be short.
Review Extension AdWords policy:
To help your review extension get approved, make sure you comply with the following policies:
The review's content should be visible in the text on the source page.
The tone and content of the review must match the original source.
Ellipses (…) should be used to show missing words or phrases.
Exact quotes and paraphrased reviews must reflect the overall content of the source page.
A periodic award should mention the time period (such as yearly).
Reviews should not be more than 12 months old.
If you are unsure on how to use punctuation, ellipses and exact quotes in your review extension, you can find some examples on the Adwords Review Extension page.
Seller Rating
"We gather seller ratings from reputable sources that aggregate business reviews. We base seller ratings on a number of sources. These sources include reviews from Google Shopping and Google Trusted Stores, as well as feeds from these independent review websites:"
When will the star ratings show?
You cannot predict exactly when it will start appearing but you need to follow those tips:
Your campaign type should be "Search Network with Display Select," "Search & Display Networks" or "Search Network only."
The customer must be searching on Google.com, Google.co.uk, Google.de, Google.fr, or Google.nl.
Your business must have at least 30 unique reviews — each from the past 12 months — and a composite rating of at least 3.5 stars or higher.
At least 10 of these reviews must be in the customer's Google interface language.
You don't need a Google Merchant Center account for your ads to be eligible for seller ratings.
How much does it cost?
Nothing and a lot at the same time.
Nothing:
Clicks on star ratings are free. They will lead to the third party site where visitors can view the entire list of ratings.
A lot
Signing up with the third parties recommended by Google can be expensive. Some third parties charge $250 per month for up to 30 reviews per month or $600 per month for up to 1,000 reviews per month. The increase in conversion rate and the price of products/services sold must justify the spending.
If you have any questions about those extensions, feel free to comment below.