What Happened To The Right Side Ads?
As of February 22nd, Google has removed the standard search ads from the right hand side of search results. Here is what it looks like for a search like "Vancouver Insurance":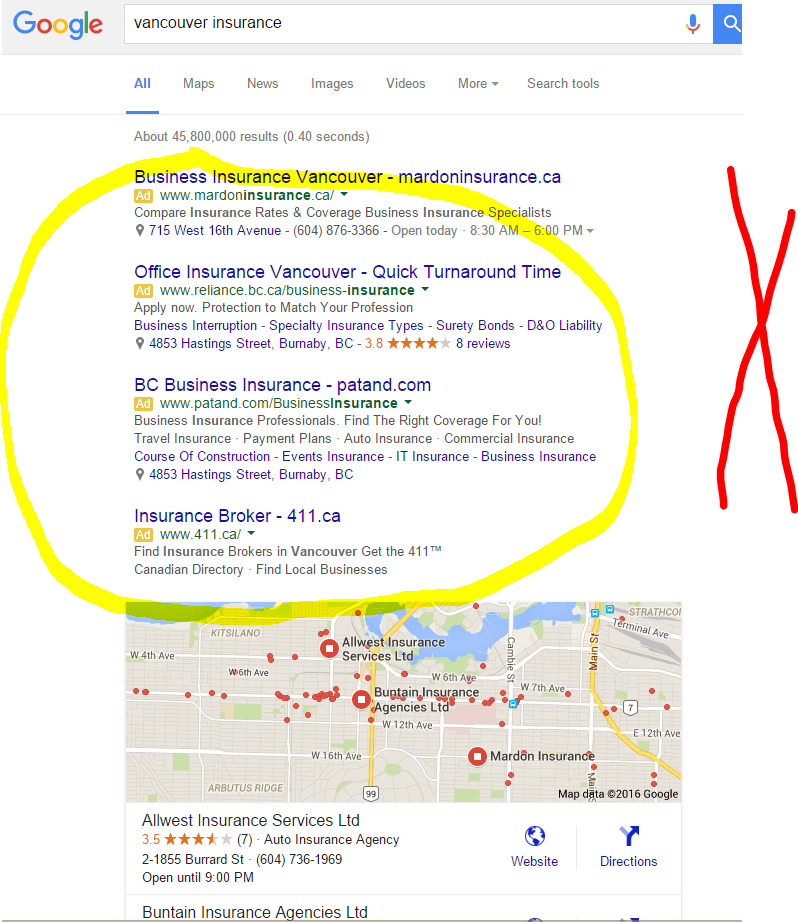 As you can see, the top of page ads are now more prominent with a total of 4 ads instead of the traditional 3.
What Does This Mean?
For Google Adwords
This is a big change for Google AdWords. It is a strategic move on their part to drive a higher level of competitiveness in the advertising space. Here is what we can expect on the Adwords front:
Businesses with ads rankings lower than 4 will see their CTR decrease greatly since ads  with an average position 4 to 7 will show at the bottom of the page. Ads rankings 7 to 10 will basically disappear completely.
We expect to see a rise in the average cost-per click as there are fewer spots that are available to bid on. It is going to make the top spots even more competitive. However, 1UP has always recommend to their clients to be in top 3 positions so it will not change the overall strategy of an account.
Quality Score will become even more important in order to maintain a top position without paying top dollars.
It's not all bad. Google is now showing 4 spots at the top of search results instead of 3. Even though it will be more competitive to stay at the top, being 4th is no longer a terrible spot.
Ad extensions are now available for that 4th position: sitelinks, callout, phone numbers and other ones mean that each spot provides more value to the business by being able to display more information.
The addition of a fourth spot on top of search results pushes organic rankings even lower down the page making Adwords even more important for businesses.
Mobile searches are not affected for now  which means that a top 3 average position is strongly suggested for mobile campaigns
With increased competition for the top spots, constant monitoring from savyy marketers will make even more of a positive impact on campaigns being neglected. This could turn out to be beneficial for some campaigns being to show more information on the top 4 ads if done properly.
For SEO
As mentioned above, having 4 ads with ad extension at the top of search results well as a slight decrease in organic traffic as the 4th entry will push organic listings further down.
We can expect a slight decrease in organic traffic at first, especially if nothing is done to counter this update.
Good content will be more important than ever. Your website is your time to shine. Show off testimonials, case studies, features, benefits, as well as educational pieces on your industry to set yourself as a leader of your field.
Diversified content will be very helpful try to rank for competitive as well as longer tail keywords, which often prove to be more valuable.
Marked up data and knowledge graph will be even more crucial in order to take more room in the limited organic space left.
Conclusion
What should you do about it?
Now is a good time to come up with a 2016 plan for Adwords and reevaluate your Adwords budget and SEO efforts in order to take advantage of this change by acting quicker than your competitors. With each click being more competitive and valuable, having properly thought-out and executed campaigns with a high relevance and consistency from the search query to the ad copy and landing page is even more a necessity.
If we do see a big increase in CPC, expanding other options such as Bing, Facebook and other types of campaign could drive a lower cost per acquisition.
Final words: It is a bit ironic that Google is moving more and more towards a pay to play type of search result when they advise website owner to not place ads in the upper section of their site.