Longer Title and Description length in Google Search Results
You may or may not have noticed it but Google has discreetly updated its search results to allow for  longer titles and descriptions. Google recently removed the right hand side ads and that has freed some room on the search results page. Consequently, they have widened that page which provides more room for longer title and descriptions.
Longer Title Tags
It seems that the latest title length allowed is now 70 characters. Below are some examples we noticed this morning:
Localized Search Query: "Vancouver Hotel" 

The title tag of the Fairmont hotel is 69 characters, when other title tags on the same result page still get truncated to the usual 50 to 60 characters (512 pixels).  It doesn't seem to be applied consistently yet which shows that Google is probably just testing this out at the moment.
Broad Search Query: "Insurance" 
This result clearly shows that Google is still in full test mode with this update because it showed a long title tag when we first googled it. Then, we went back to capture a screenshot and saw the truncated title for the same search query. By simply refreshing the page, the longer title displayed again.  Stop messing with us Google!
Truncated title:

Longer title:

It might be time to rewrite title tags on your site soon to take advantage of this before your competition does. It would be interesting to see how much of an impact it actually has on CTR. We have noticed longer titles for top results, as well as mid page or bottom end results so it does not seem to be correlated with rankings.
Longer Meta Descriptions
We have definitely noticed some longer descriptions but their lengths are more all over the place. It is harder to get an exact rule out of this update. It seems that the wider search result page adjustment cuts descriptions line around 100 characters although we have noticed some with up to 102 characters, leaving the second or third line half the size of the other ones. It looks a bit awkward so they will probably adjust it. The biggest change is that we have noticed more and more results with more than a 2 line description snippet.
We have found search results with not 2 lines, not 3 lines but 3.5 description lines. In this case, Google is completely bypassing the meta description and pulling out information it finds more useful: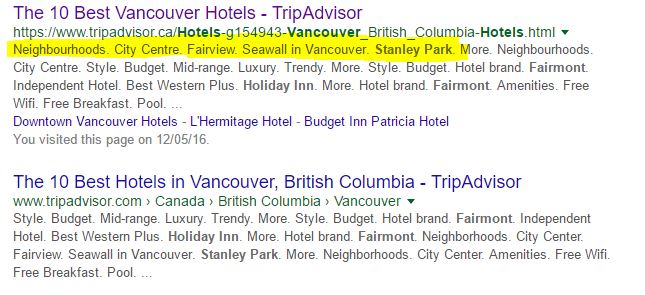 From the TripAdvisor source code:

Google has been known to bypass meta descriptions from time to time but not often to that extent. This also means that the same 2 search results take up an entire screen on mobile and force users to scroll more, probably reducing the CTR of lower results:
Mobile Search Results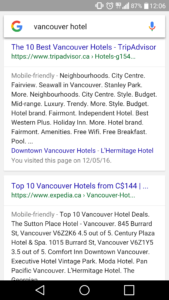 Regular Meta Descriptions are sometimes not enough
If you have a regular size meta description, Google may add more content to it itself so you might want to update them to add another sentence after your usual meta description, in case your site displays the longer meta description. For example, the search result for Orca Spirit Adventures displays the regular meta description that is entered on the site:
<meta name="description" content="Choose between covered or zodiac boats on your whale & wildlife watching tours from Victoria and Vancouver. GUARANTEED VIEWING. Book your adventure with us!"/>
But Google decided to display a longer description and added information itself to show:

In this case, the second sentence is relevant but gets truncated so rewriting would offer people a better experience and might increase CTR.
What to do about it?
First step will be to monitor these changes closely to make sure it is not a one time test that will get canned. If it looks like it is being applied to search results on a more consistent basis, then it will be time to give titles and descriptions some TLC and re-optimize them for better SEO results.  You might want to update the meta descriptions for your main pages anyway. We will keep you posted with further developments.