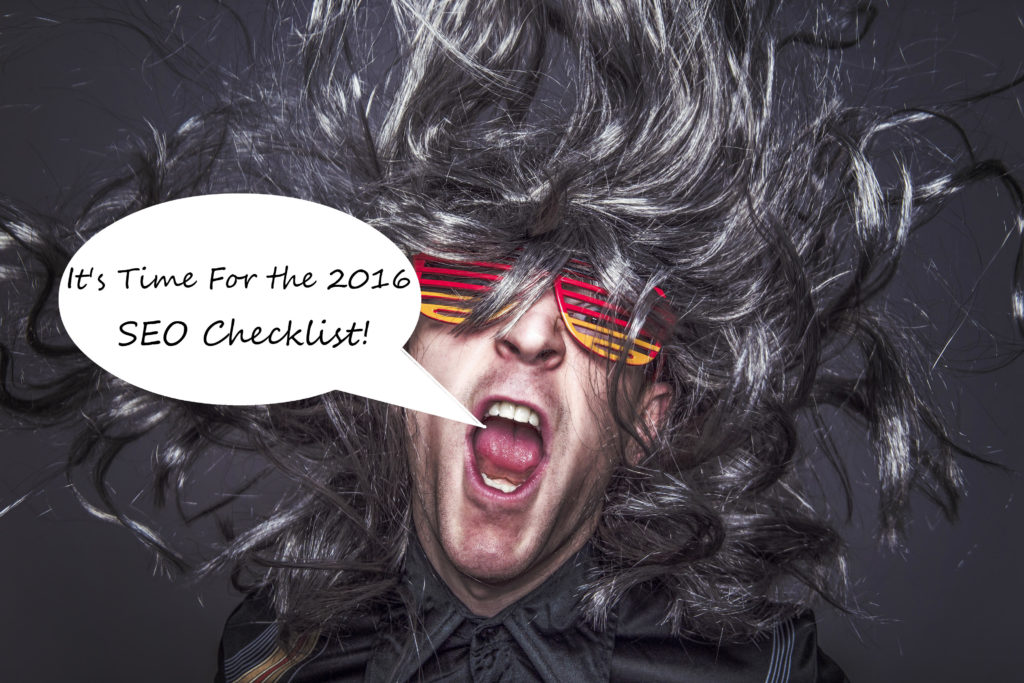 There are many factors to consider when getting started with an SEO plan, this list is a good place to start. It focuses on high level prioritized tasks that will get your website noticed by search engines, and will hopefully also generate more traffic for you. While there are thousands of factors, this high level overview will cover the essentials. This post explores content, images, technical and external organic ranking factors, so let us being!
SEO Optimization Checklist
On-Page Written Content
Ensure that all of your content is well written, mistake free, engaging, and no less than 100 words of unique content per page.
Identify a key target search phrase for ever page and integrate the phrase:

In page headline.
At least one sub-headline.
Three to fivetimes within body copy.
In the URL if possible

Ensure that content is created regularly (at least every 2 weeks), and systematically (working towards new traffic goals).
Ensure that the content on the page is compelling, valuable, interesting, or 'sharable'. This will ensure that the user experience is positive, and will aid is the sharing of the content.
Be sure to include the city you are located in on specific pages. Consider including in the footer of each page.
Ensure that all of your content is unique and that you are not using duplicate content on your own site (same content on multiple pages), or from another source.
Use full descriptions for your anchor text as opposed to 'Click Here'
Optimize Images
Have images that reflect the main search phrase for the page, and add alt tags and file names that include the search term.
Add captions for images that include the search phrase.
Technical Optimization
Title tag- Ensure every page has a title tag that includes the main targeted search term and is 70 characters or less.
Meta description tag- Ensure that it is compelling and has an CTA. No longer an SEO factor, but affects click through rates. 160 characters max.
Mobile- make sure that your site is mobile friendly, if responsive, must scale correctly, if not, have intelligent redirects for mobile devices.
Add Markup to your site – Adding markup to your site for authorship and location helps search engines understand your website, and the content it is producing.
Ensure that your robots.txt is submitted to Google and Bing webmaster tools.
Ensure that your sitemap is submitted to Google and Bing webmaster tools.
Ensure that your site is loading quickly, slow sites are penalized.
Ensure that there are no external broken links that are triggering 404 errors.
Ensure that the .htaccess file is correctly configured and has intelligent rules managing 301 redirects.
Use encryptionfor your site, HTTPS is the new standard for web protocols
External Ranking Factors
Listings – Claim all listings to your site on all major sites. All info needs to be identical in order to create clear signals to the search engines. Here are a few examples:

http://www.twitter.com/brand-name
http://www.facebook.com/brand-name
http://www.yelp.com/biz/brand-name
http://www.youtube.com/user/brand-name
http://www.linkedin.com/in/brand-name

Include links to your listing sites and social media profiles.
Inbound Links – Gain citations and links from credible websites. This is still a significant factor in SEO ranking. This needs to be done organically, and not as a paid PR based link development.