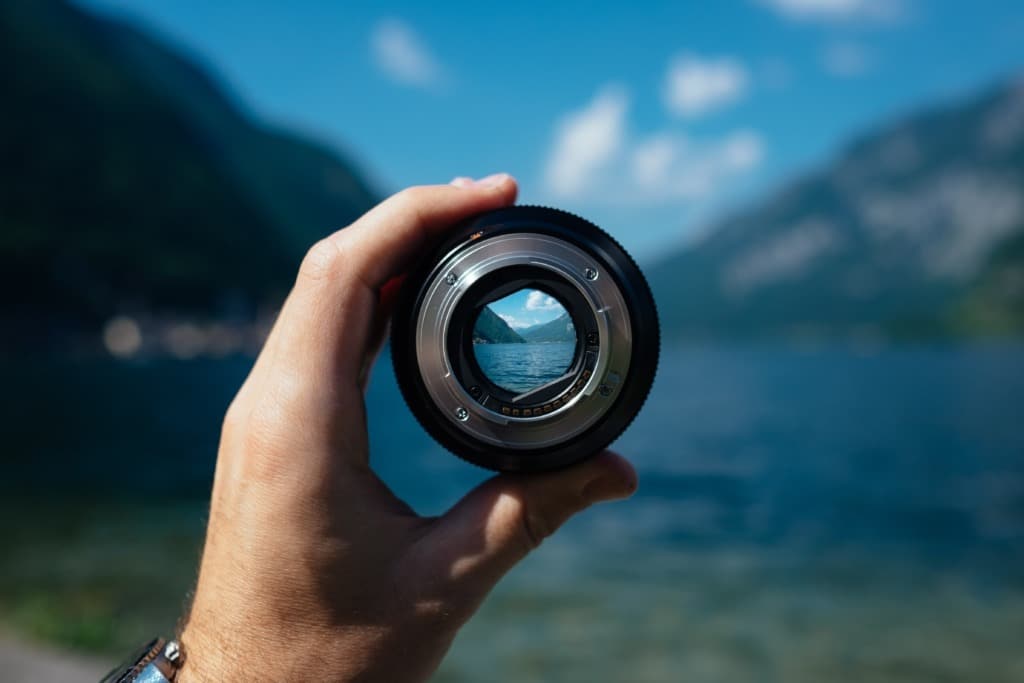 Integrating Digital Trends In The Marketing Plan
Digital marketing is as dynamic as ever. With the incredible pace of technology developments, opportunities for digital marketers are now endless. 
Nowadays, it is imperative to keep up with growing digital trends in order to remain a competitive player in the market.
However, some trends vanish as quickly as they arise. This is why you should never jump in one promising movement as it could compromise your long-term business success combined with the loss of valuable time, money and resources. You need to thoroughly plan before you start investing in something that will not be beneficial for your business.  
Distinguishing between long- and short-term trends and finding a healthy balance is one of the biggest challenges marketers face. Let's have a look at 5 digital marketing trends you should start integrating into your marketing plans for the future.
Track The Most Promising Digital Trends
#1: Virtual & Augmented Reality

These two "realities" are making a big impact when it comes to leading people into different worlds to enhance their imagination, customer experience and even to evoke emotions (let's hope only positive ones!).
While some big companies are already integrating virtual reality in their marketing activities, augmented reality can be a more feasible first step for smaller businesses.
The difference between virtual and augmented reality is that augmented reality doesn't showcase an entire new reality, but it helps the audience visualizing products integrated in their lifestyle.
Let's look at an example: Ikea developed an app where you can see if a couch you like would really match in your living room. This can facilitate your buying decision considerably:
#2: AI Chatbots For Customer Support
Customer service can be very time consuming. While many companies strongly believe in personal contact for their clients, some companies are already integrating anonymous chatbots for customer support.
Some criticize that chatbots lead to a big decline in customer satisfaction. This is true if it is not implemented correctly.
The main purpose of chatbots is to ease the work of the customer support team. The use of chatbots can facilitate a faster flow and efficiency. Moreover, it can be used to answer frequently asked questions and can filter those customers who really need to talk to someone personally.
In this case, the use of chatbots should be used as a supportive tool and not as a complete replacement.
An example for the use of chatbots is H&M, that allows users get some inspiration with the chatbots' fashion vein. As a little experiment, we did try this out ourselves, look what we were chatting about: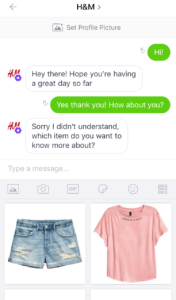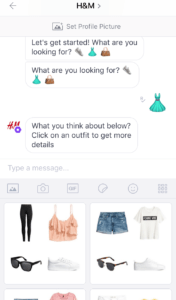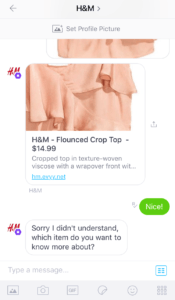 We have to admit, chatbots sometimes don't work as effectively as when talking to a real fashionista… But it can definitely help if implemented well.
#3: Videos Boosting Engagement
It has been proven that videos can engage and increase user interaction more than plain content. This doesn't mean that videos are completely replacing traditional text content. Both variations serve the main goal to share ideas and information, but they have different strategies how to raise attention. Every video you're planning to create, needs to make sense and add value.
Videos should be integrated in all channels, starting from social media all the way to the website. Instagram stories, Facebook Live videos and the growth of YouTube are just a few platforms proving that video usage is growing.
#4: The Rise Of Micro Moments
People nowadays expect quick responses at the right time and on the right channel. With growing mobile use, people's use search queries like "coffee store near me", "buy a phone now". Marketing actions are more flexible and focused on meeting real-time needs and wants of customers. Patience is definitely not a bit characteristic among us anymore.
This leads to a crucial turning point in your marketing strategy: It's time to map all micro-moments in the customer journey. This helps integrating all instant touchpoints with your potential customers. Make sure that your business provides value to all the defined touchpoints.
Another growing opportunity is to opt for voice optimized content to catch the user's attention when they're talking with Google Home, Alexa, Siri or another voice resource. Provide quality content for all different on- and offline channels to catch the audience's attention anywhere, anytime. 
#5: Personalized Content
In a growing anonymous world, people are more and more appreciating a personal touch. This is a huge opportunity where you can build trust with your customers and stand out from your competitors.
Due to micro-moments within the customer journey, it is important more than ever to understand what type of content each customer in different funnel stages expects. Some people are looking for product reviews and some are looking for payment and shipping details. And they want to get this information as fast as possible.
With growing technology, it is now possible to adapt your website with dynamic user experience design and matching content. With the possibility to track users, you can match the web content depending on which stage the user is at the moment.
Final Thoughts
It can be challenging finding the right tools and strategies to move forward and stay successful. But on the other hand, this presents an incredible opportunity for companies to build strong relationships with their audience and to strengthen their loyalty. After all, the most crucial goal in digital marketing is to build relationships with your audience and to turn them into lifetime brand ambassadors.
We strongly believe in building tailored digital marketing strategies that reach the business goals and improve the ROI in the long run. This is why we love keeping up with these trends and are ready to help you building an exciting digital plan for the next year.