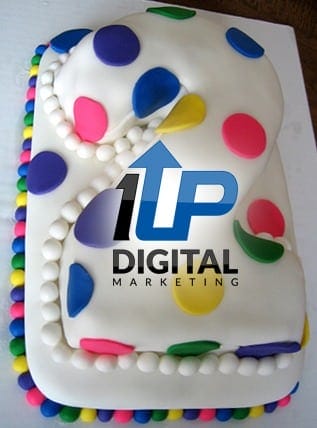 Today 1UP Digital Marketing is celebrating it's 2nd birthday (thanks everyone!!), and in order to avoid the 'terrible 2s' we are going to start our second year off right, by sharing the top 5 trends for digital marketing in 2015:
1 – Mobile: On Its Own
Mobile has taken on a life of its own, for the first time we are seeing mobile usage surpass desktop usage in aggregate. With it's increased convenience and ability to push timely, relevant content, mobile is a force that needs to be optimized.
With super computers in everyone's pockets now, if you don't have a mobile optimized strategy and site, you are going to notice a loss in visitor traffic.
2 – Relevance Trumps All
Search is more about relevance then ever before, we have long known that Google is focused on meaning and not exact keywords, however Google is now rewarding those who have authoritative content that answers specific questions in what it calls the 'Quick Answers Box':
This is only the beginning, as Google is also adding new feature for mobile search that value ratings and location into search behaviour. This year more than ever, you need to focus on answering relevant, timely questions for your customers.
3 – Automation Is Here
Marketing Automation is a trend that has been rising for the last decade. Integrating systems together is now easier and more rewarding than ever before. In the past, you had to individually manage several platforms, lead management, CRM, and the like. Now there are marketing automation systems that combine everything into one interface. In the past you had to work with a Display ad sales person to purchase large advertising campaigns, and now programmatic advertising is streamlining the entire process.
4 – The Algorithm Is Going To Change
The search space is always evolving, with major changes to Google's Algorithm happening almost monthly. This level of change is difficult to prepare long term strategies for, and ensures that SEO will be here to stay for a long long time.
5 – Real Time Payments Are Expected
Consumers are now conditioned to be able to pay when they want to buy, this is a result of new consumer friendly payment methods that have been sweeping the globe in the last few years. Notably:
Square Mobile Payments Allowing retailers to accept payments anywhere.
Apple Pay, Android Pay and Samsung payments which allow you to use your phone instead of your wallet.
The advent of an easy payment gateway that small businesses can access and integrate.
These technologies are breaking down barriers for all businesses to be able to instantly accept payments, and customers are now expecting this.
What is the main digital marketing trend that you noticed in the last year?